Grades K-8 (2022-2023 School Year)
Walker Country Estates Park
Children will learn the fundamentals of football, teamwork, sportsmanship as well as offensive and defensive strategies. This recreational league is perfect for players of all levels.
Register before Wednesday, June 15 to receive a $50 discount per player! Games begin Saturday, August 20 and end Saturday, October 15 (Skip 9/3).
There is volunteer fee of $15 per household not per player. Each family will be required to volunteer for at least one hour during the season. When this has been completed, you will receive a $15 credit to your Park District household account. When registering online, one Parent/Guardian must be enrolled in the Volunteer Fee. This fee must be in your cart prior to enrolling your child for the league.
League Information: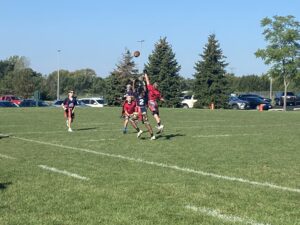 Players will be contacted with their team assignment by Wednesday, July 27.
Teams are scheduled to practice twice a week starting the week of August 1.
Early start times and Sunday games may be scheduled if needed for make-ups.
Player and practice requests will not be accepted.
Players are required to wear a mouth guard to participate.
Coaching Information:
There is a mandatory coaches' meeting on Thursday, July 21 via Zoom.
 Coaches will be required to submit a state-mandated background check.
Coaches may request practice availability and to be with one other coach.