Adult
Lions Den Park Softball Field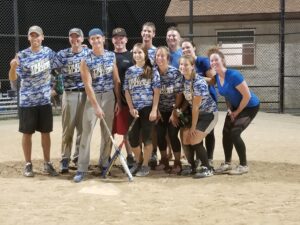 Teams will play a 10-game regular season, followed by a single elimination tournament. Game times are 6:30pm, 7:30pm, 8:30pm or 9:30pm with the time changing each week. Cancellations due to weather can be rescheduled for Sundays, or on a night that you do not regularly play. Scheduled start/end dates and game times are subject to change. All leagues are ONE Nation sanctioned. A security deposit of $150 (non-refundable) is due at time of registration. All fees must be paid in full by Friday, April 21. NO EXCEPTIONS. League information will be emailed to each captain prior to the season. Online registration must be paid in full.
RETURNING Team Registration: Register now to save a spot.  NEW Team Registration Begins: Monday, March 20.  Registration deadline is Wednesday, April 19.
Men's Leagues
Activity
Day
Date
R/NR
82143-A1
M
5/1-8/14
$682 per team
82144-A1
TU
5/2-8/15
$682 per team
82145-A1
W
5/3-8/16
$682 per team
Co-Ed Leagues
Activity
Day
Date
R/NR
82146-A1
TH
5/4-8/17
$682 per team