Chicago Fire FC Soccer Camp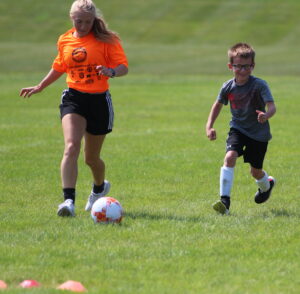 Ages 3-12
Nelson Ridge Athletic Fields
Kick off your summer by signing up for a Chicago Fire Soccer Camp! Play, learn and train with our passionate, highly qualified Chicago Fire coaches who will help your child develop soccer skills in a week of soccer-filled fun. Programs are suitable for all ages and ability levels. Space is limited! All players registered will receive a Chicago Fire camp shirt, a CFFC poster, registration to our Kid's Club, and a ticket to a Chicago Fire game at Soldier Field! Campers should bring their own ball; shin guards and water bottle each day.  Register Online.  For questions, please call (872) 710-0563 or email [email protected]
Little Sparks
Ages 3-5
Little Sparks is Chicago Fire FC's introduction to soccer program, where children aged 3 to 5 years take their first steps in soccer! Unique to Little Sparks, we encourage parents to play too! Little Sparks takes children on an exciting journey using imaginative stories to explore the game, while our experienced coaches focus on their holistic development. Little Sparks uses three core principles (experiential play, creative learning, holistic activity) to create an environment for children to learn, play and have fun with a soccer ball at their feet! Register Online.
| Day | Date |  Time | R/NR |
| --- | --- | --- | --- |
| M-F | 6/13-6/17 | 8:00-9:00am |  $98 |
| M-F | 7/25-7/29 | 8:00-9:00am |  $98 |
Half Day Camp
Ages 6-12
Chicago Fire FC Camps are designed for children of all ages and abilities to develop their soccer skills through a tailored camp curriculum and authentic soccer experience. We provide professional coach instruction through our "Soccer In The Community" coaches, to develop their technical ability, social emotional learning, and love for the game. Register Online.
| Day | Date |  Time | R/NR |
| --- | --- | --- | --- |
| M-F | 6/13-6/17 | 9:00-Noon | $176 |
| M-F | 7/25-7/29 | 9:00-Noon | $176 |
Five Star Soccer Mini-Camp

Ages 5-13
Nelson Ridge Athletic Fields
Five Star Soccer Camps are proud to offer a fresh, enthusiastic approach to teaching youth soccer. We pride ourselves on delivering a curriculum that presents the most current and advanced information on the development of the youth soccer
player. The quality of our staff is among the best around, working hard to build on fundamental techniques, while creating an atmosphere that unlocks the game within each child. The curriculum of instruction is designed by Michael Wiggins, who is a 2-time IHSA Soccer Coach of the Year and Head Coach of the 2014 IHSA Soccer State Champions. After registration, you will receive an email from Five Star Soccer for specific program details prior to the start of the camp.
| Activity | Day | Date |  Time | R/NR |
| --- | --- | --- | --- | --- |
| 12252-A1 | M-TH | 6/27-6/30 | 9:00-11:00am | $79/$84 |