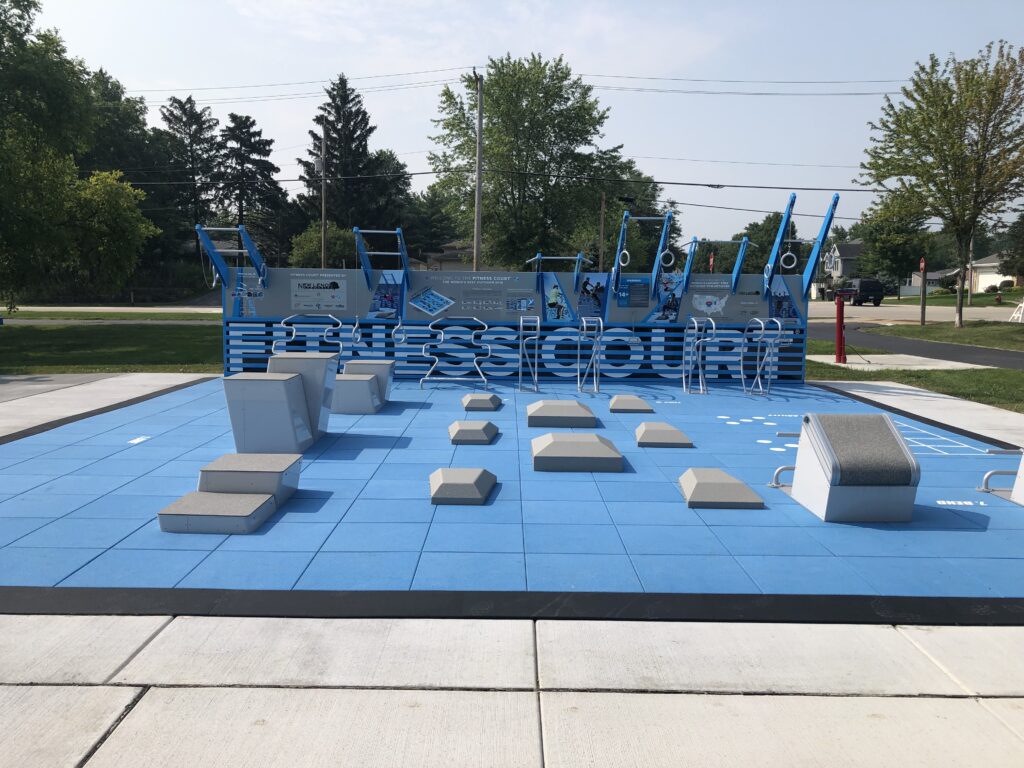 On, Friday, July 23, the New Lenox Community Park District unveiled its newest quality of life addition at 701 W. Haven Avenue, a sleek and modern outdoor Fitness Court® with a supporting mobile app. This capital project is a featured part of a 2020 initiative launched by the National Fitness Campaign (NFC), a nationwide consulting organization that partners with cities and schools to plan, build and fund healthy infrastructure.
This year, the New Lenox Community Park District and dozens of other select recipients from around the country were awarded a $25,000 grant from NFC to help support the program. In additional to grant funding, a city match and local sponsorships from Silver Cross Hospital, the Village of New Lenox, Kuyper Bros., Inc., Welsch Ready-Mix Concrete, Burns Photography, New Lenox Friends of the Parks Foundation, NuToys Leisure Products, Tri-Star Cabinet and Top Co., Inc., M.O. Graphics, Berkot's Super Foods, Northern Builders, Inc., Senator Michael Hastings, Hickey Memorial Chapel, Kurtz Memorial Chapel, Town Center Bank, Trinity Services, Harry E. Anderson VFW Post 9545, Food 'n Fuel, Lincolnway Community Bank and Peace Lutheran Church were contributed to make this project possible in New Lenox.
The new Fitness Court® is an open-air wellness center that allows users to leverage their own body weight to get a complete workout. Created with adults of all ages in mind, the Fitness Court is adaptable for all fitness levels. New users can also download the free Fitness Court App – a coach-in-your-pocket style platform – that transforms the outdoor gym into a digitally supported wellness ecosystem. The Fitness Court App, entitled "Fitness Court", is available for iOS and Android.
National Fitness Campaign developed the trademarked seven-station system in 2012 hoping to inspire municipalities to transform public spaces into community fitness hubs. There are currently 100 active Fitness Court locations across the country, and the Campaign will reach a total of 250 cities and schools by the end of 2021.
Residents are invited to attend an Opening Day Launch Event on Tuesday, August 17 at 3:00pm to try the Fitness Court® and learn about upcoming community wellness events and programming. For more information, contact the New Lenox Community Park District at (815) 485-3584.