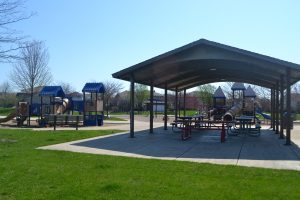 Are you looking for a wonderful and affordable way to host your next outdoor celebration?
New Lenox Community Park District offers shelter rentals at several park sites, all of which are developed with playground equipment! New Lenox Community Park District residents and nonresidents have the opportunity to rent the Park Shelters shown below.
Rentals for 2018 began on Tuesday, January 2, 2018.
Park Shelter Rental costs include use of electric and shelter rental. Please remember that these are public parks and open space will remain open to the public. In order to be approved to bring in an inflatable (no water inflatables allowed) onto Park District property; you MUST supply a Certificate of Insurance (COI) by Operating Vendor with a $1,000,000.00 policy; naming the New Lenox Community Park District as additional insured with 701 W. Haven Avenue, New Lenox, IL 60451 as the address and include a copy of the vendor's permit to conduct business. Once the COI and Business Permit is received, only then will the renter be allowed to have the inflatable on Park District property; this MUST be supplied prior to your event. These documents may be mailed to the Park District address above or faxed to (815) 485-3589.
Park Rentals are available from Apr. 15-Oct. 31.
Hours of Operation: 9:00am-8:00pm
All parks are ADA accessible.
A refundable Security Deposit of $100 and Rental fees are required for all Park Shelter Rentals at time of reservation. Cancellation policy within the 14-day period prior to the rental date: 8-14 days prior: Security deposit is retained. The rest will be refunded within a period of 30 days. 7 days or less: Security deposit plus 50% of the rental fees will be retained. The other 50% will be refunded to the signee within a period of 30 days.
Visit our Interactive Maps for information regarding each park.
Parks Available to Rent:
| | | | | |
| --- | --- | --- | --- | --- |
| Park Name | Location of Park | In District Rate | Out of District Rates | Shelter Size |
| Cherry Hill (No Alcohol or Inflatables) | Washington & Kingston Dr. | $125.00 | $175.00 | 24 ft X 36 ft |
| Firefighters | 1 Manor Dr | $125.00 | $175.00 | 30ft X 60 ft |
| Haines Wayside | Haines Ave; West of Cedar | $125.00 | $175.00 | 30 ft X 60 ft |
| Hibernia (No Alcohol or Inflatables) | Eagle Circle & Blarney Road | $125.00 | $175.00 | 20 ft X 20 ft |
| Sharon's Bay | Bluestone Bay & Westwind Dr. | $125.00 | $175.00 | 24 ft X 36 ft |
| Stonebridge (After 2:00pm on weekends) | Nelson & Grandview Drive | $125.00 | $175.00 | 30 ft X 55 ft |
| Wildflower | Washington & Cherry Hill Road | $125.00 | $175.00 | 20 ft X 20 ft |