Galaxy Dancers
Ages 3½-9
LCC (Room 2) Entry D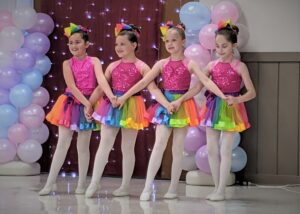 From the graceful movement of Ballet to the quick beat of Jazz to the synchronized sounds of Tapping Toes, the New Lenox Community Park Districts "Galaxy Dancers" has it all! This is a progressive program open to both girls and boys. Dance shoes will be available for purchase from the instructor on the first day of class. Students will be divided according to age in the following classes. Class size is limited; so please register early.
Activity
Dance Title
Ages
Time
R/NR
Tuesday, Wednesday, & Thursday Classes-Dates 7/19-7/28
18182-A2
Pre-Ballet
Ages

3½-4

9:30am-10:00am
$60/$65
18184-A2
Beginner Tap
Ages 4

½-6

10:05am-10:35am
$60/$65
18185-A2
Beginner Ballet
Ages 4

½-6

10:35am-11:05am
$60/$65
18186-A2
Jr. Jazz
Ages 7-9
11:10am-11:40am
$60/$65
18180-A2
Ballet
Ages 7-9
11:40am-12:10pm
$60/$65
18181-A2
Tap
Ages 7-9
12:10pm-12:40pm
$60/$65
Pre-Ballet: An introduction to basic steps and positions. Students will learn a fun song and dance routine.
Ballet: An excellent background for all dance and sport activities. Poise and grace are enhanced through the technique and structure of a ballet class.
Tap: Shuffle in for a faster paced class; improve rhythm while enjoying this all-time favorite dance style.
Jazz: Fast action steps and new dance moves will be incorporated into a great routine to popular music. Move to the groove for a terrific workout.