Daddy/Daughter Date Night
Age 3 & Older
LCC (Rooms 1 & 2) Entry C
Aloha! You are invited to join us for our luau-themed daddy daughter date night. Be sure to come dressed in your best Hawaiian attire and prepare to dance the night away! Everyone will receive a Hawaiian lei when you walk in the door! We will have music, a light dinner and lots of fun! Registration deadline is Friday, October 22. Additional child(ren) will be $20 R/NR.
| Activity | Day | Date | Time | R/NR |
| --- | --- | --- | --- | --- |
| 10224-A1  |   F |  11/5 | 6:30-8:30pm | $48 per pair |
| 10224-B1 | SA | 11/6 | 6:30-8:30pm | $48 per pair |
Flag Football Turkey Tournament
Adult
Fieldstone Park
Prior to sitting down in front of the television for Thanksgiving football, get some practice in for yourself in this one-day, double-elimination Flag Football Tournament. We will play two 20-minute halves with a running clock; all players are eligible receivers. This is an 8-on-8 tournament, and each roster can have a maximum of 20 players. Limited spots are available so don't wait to register a team. Prizes will be awarded to the top two teams of the tournament. Check in begins at 8:00am. In the chance of the tournament being cancelled due to weather conditions, games will be rescheduled to Saturday, November 13. Registration deadline is Wednesday, October 20.
| Activity | Day | Date | Time | R/NR |
| --- | --- | --- | --- | --- |
| 24230-A1  | SA | 11/6 | 8:30am | $254 per team |
Gobble, Gobble, Gobble Coloring Contest
Ages 2-12
Administration Building
Stop by the Administration Building or visit our website to pick up/download the coloring sheet. Monday, November 1 through Friday, November 19, you can color and decorate your own turkey. Please NO glitter. Coloring sheets are due by Friday, November 19. The winners will be notified by Wednesday, November 24.  Turkey Coloring Contest 2021
Entries will be judged in the following age groups:  Ages 4-5 • Ages 6-8 • Ages 9-12
Gobbler Gauntlet 5K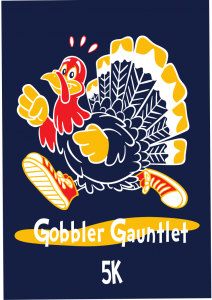 Age 7 & Older
Sanctuary Golf Course
Dash your way to the finish line. The terrain of the race/walk is mostly flat with a few rolling hills. The route will have a water station and an electronically timed finish line. All participants will receive one complimentary drink in the clubhouse upon finishing the race. Medals will be awarded to the 1st and 2nd place finishers in each age category such as top male and female finishers.
If registered by Monday, November 1, participants are guaranteed a race shirt. All net proceeds will benefit the NLCPD Scholarship Program. Race Day Walk-up registration begins at 7:00am.
Activity
Day
Date
Time
R/NR
27203-A1
SA
11/20
8:00am
$30, Mail/Fax/Walk-in by 11/16
$30, Online thtiming.com until 5:00pm on 11/18
$40, Race Day Walk-up