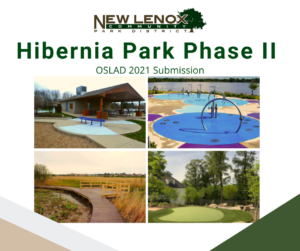 The New Lenox Community Park District was awarded an OSLAD Grant in the amount of $400,000 to help update one of our most frequented parks, Hibernia Park.
Hibernia Park Phase II will feature an expanded boat dock along with an ADA accessible kayak station to better serve all members of our community.  The open space between the current concession area and park will soon be home to a boardwalk over a pollinator prairie to allow for a more accessible walkway to our park and splash pad, this will also serve as a fun learning experience for all. The splash pad will be made larger with new equipment and a slip resistant splash pad safety surface. The new multi-use building will be more centrally located to the park and splash pad, in addition to having washrooms and a concession stand with a pavilion. At the west end of the park, we are adding bocce ball and a putting green, for multi-generational recreation. The multipurpose trail that encircles the site perimeter will now feature outdoor sports and fitness equipment to support active lifestyles.
The new development has a project budget of just over $1 million. Hibernia Park Phase II will be funded by the OSLAD grant and the New Lenox Community Park District. When OSLAD grants are awarded, agencies typically exceed the dollar for dollar minimum matching requirement. On average, local agencies match the state's dollar investment by $1.75, meaning that the state receives 175% of its investment.
The New Lenox Community Park District is one of 87 agencies throughout the state to receive an OSLAD grant. A total of $30.3 Million dollars was awarded to agencies. Funding for this round of OSLAD grants was the direct result of Illinois Association of Park District's (IAPD) advocacy efforts. Without the support of the IAPD membership, these OSLAD grants would not have been possible.
"We are thrilled to receive this grant that will allow us to expand and update the current recreational amenities while creating something new for residents," New Lenox Community Park District Executive Director Greg Lewis said. "The planned additions will appeal to our entire community making Hibernia Park truly a destination site for New Lenox."
OSLAD grants require funded parks to be completed within 2 years of receiving the grant.  We are excited to begin construction on this new phase of Hibernia Park!