The Fitness Court®:
Active Senior Circuit
Fitness Court®
Instructed by: Carissa Pavlik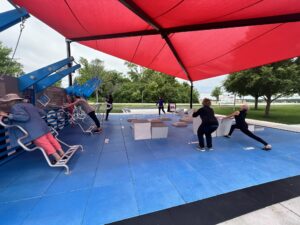 This Active Senior Circuit class will go through the 7 zones of the Fitness Court. These zones include Core, Squat, Push, Lunge, Pull, Agility and Bend. In each zone, participants will go through a series of workouts to improve your cardiovascular health, strength, and balance. Participants will work out at each zone for a specified time and then transition to the next zone. No matter your fitness level, the Fitness Court is designed to support every workout type, goal, and program imaginable.
| Activity | Day | Date | Time | R/NR |
| --- | --- | --- | --- | --- |
| 36172-A1 | TU | 4/18-5/23 | 10:00-10:35am | $34/$39 |